In addition to our High Quality Disco and DJ services, we also offer the following add-on extras:
We feel it's best to specialise in being excellent DJs, so just offer a core of extras that we feel add something to the event and are good value, we are not keen on upselling to spend more of your money.
That said, if you are looking for Photo Booths, Selfie Pods, Dancefloors, Candy Carts, etc, we know some excellent independent suppliers, happy to pass details, they do a far better job than the 'jack of all trades' packages too!
Uplighting/Moodlights – To really light up your venue, can be used to colour the walls to a theme, or to brighten a plain room.
Also great in marquees! Can be set to a single colour or your choice, fade in and out to a rainbow of colours, or pulse to the beat of the music. Prices from £45-£125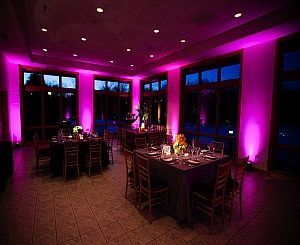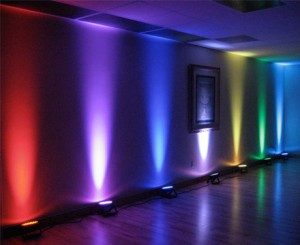 Glow Podiums – Fabulous way to jazz up and make a feature of the DJ are, our colour changing (or fixed colour to fit a theme) glow podiums really make the DJ area look great, available on some packages – £45
White Wedding Setup – Includes White DJ Booth, Glow Podiums and White Covers for Tripods to give a fresh clean look perfect in first dance pictures etc – £65
Monogram/Gobo Projection – A real talking point! Have your names in lights! Fabulous to personalise the room, and particularly great in pictures of the evening. Can be projected on walls, ceiling, dancefloor etc. Prices from £65.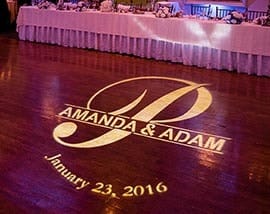 Confetti Cannon – Make your first dance go with a boom, a big burst of confetti either at the end of the first dance, or mid way through at a selected point in the song (so you know it's coming), looks AMAZING in your pictures! £45 per shot (one is usually enough).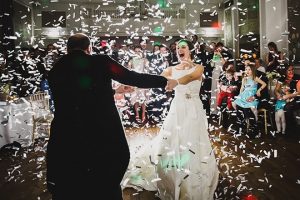 Flame Machine – Pair of cloth flame effect machines. Effective, totally heat free and safe for all venues. £45 per pair.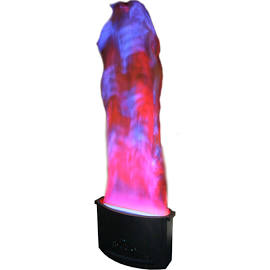 Starlit Backdrop – Black 3 metre wide backdrop with twinkling stars, to place behind DJ booth to add an extra zing and sparkle to your event – £45.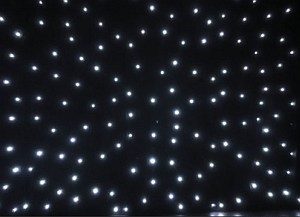 Speaker/PA Hire for Speeches and Background music – Whilst we are available to provide a full managed system for wedding speeches, corporate events, or other events that require a speaker and microphone system, if you don't need a managed system, we have a small, great sounding system available to hire, easy to use and has connections for ipod or laptop for your music and two microphone inputs. Prices from £50.
LOVE Letters & Dancefloors – We don't stock these, why?, they are favoured by some companies as they are great upsells, but actually don't offer great value for money, light up dancefloors in particular are pricey and almost always too small, and LOVE or Mr & Mrs Letters flood the dancefloor with white light and can kill the atmosphere, they are often turned off by clients when the dancing starts.  However if you have your heart set, we can recommend some good suppliers.
We can also assist with party planning/wedding planning too!
We've worked with at a lot of venues and with a lot of people and know who and where is good.