We are VERY proud of our customer feedback, we do not ask for it, this is what we are sent without prompting, please have a browse to see what you can expect.
There are over 100 reviews on this page and we also have over 65 5* Google Reviews too.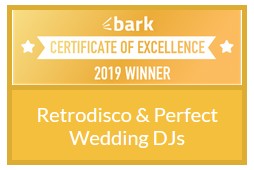 "Just wanted to say a massive thank you for Saturday night, everyone had a brilliant time, I was so very, very chuffed with the music and I got so many compliments about what was played" – Catherine S, 2/10/12 – Merry Harriers
—
"I just wanted to thank you for being such an awesome DJ at the weekend, thanks for helping us have the perfect wedding day." – Natalie H – 7/05/13
—
"We had the best night with Retrodisco last week. What fun, great music and fantastic light show, thanks for a fab night" – Sue R – 24/05/13
—
"Thank you for a great night last night. We had a great time and many commented on the music and lights that you provided. Thank you again for keeping us dancing " – Michelle A – 22/06/13
—
"Thanks for providing a first class service last night, I was impressed, it was exactly what I was hoping for " – Steve H 12/07/13
—
"Thank you so much for the quality disco, I can see why you are so booked up!" – Catherine H 29/09/13 – Childs Party
—
"Just wanted to say thank you so much for being our Wedding DJ, you did an absolutely amazing job of getting everyone up dancing. We had the most tremendous day and most of that was down to you, we could not have asked for a better DJ" – Nina M 18/10/13 – Mill On The Exe
—
"A massive thank you for Saturday, everyone had a wonderful time and commented on the great music" – Bekka D 26/04/14
—
"I just wanted to say a huge thank you for the fantastic job you did for us. We had a great time, as did everyone else and it was partly down to the fantastic music you were playing and the atmosphere you created" – Emma A 4/05/14
—
"Another terrific night! Everyone loved it. Great mix of music and fabulous light show." – Sue R 16/05/14
—
"Just a quick note to thank you for being part of our wedding at Deer Park, you created such a good atmosphere, the lighting was wonderful and people enjoyed themselves very much. We wil highly recommend you. You went above and beyond to make the night special! – Jenny G 31/05/14 – Deer Park Country House Hotel
—
"I just wanted to say thankyou for playing at our wedding at Orestone Manor. All my friends and family had a great time as I'm sure you could tell because even my grandad was dancing the night away and he is 80 and his leg was in a cast! I really enjoyed the evening do. The disco just made it brilliant!
The great thing was you just came in, set up, played awesome music that you knew would get people dancing, and then managed to pack up without assistance. We were well impressed! I've just got back from honeymoon so sorry for the late thank you but you really did make my evening do." – Laura T 12/7/14 – Orestone Manor
—
"I want to say a massive thank you for the service and entertainment you supplied for us at our annual conference.
You gauged the audience perfectly and played a brilliant selection of music" – Corporate Event 02/10/14
—
"I just wanted to say a very big thank you for last night. We had a wonderful evening" – Sarah W 31/1/15
—
"Thanks for making Kate's 40th birthday party go off with a bang. Judging by some of the shapes emanating from the dancefloor it's safe to say everyone had an awesome night. Even the sober ones enjoyed themselves which is a definite sign of a good party." – Martin R 28/2/15
—
"Mark provided a fantastic 80's disco for our school fundraiser. The numbers were not as high as expected, but it was not noticed as everyone danced all night. Everyone has asked if we could put on the same event again so they can tell their friends – we may need to find a bigger venue for next time! Everyone has been talking about what a fantastic night they had. Highly recommend." – Debbie G 6/3/15
—
"Thank you so much for making our evening so amazing everyone loved the tunes you played, especially us the bride and groom, we even had a mini mosh pit, I would recommend you to anyone" – Emma B 25/4/15
—
"Just wanted to say thanks for doing such a fantastic job on Saturday, you were amazing!! Really made the night for us." – Ruth L 2/5/15
—
"I'd been intending to drop you a line as it was all a bit of a rush at the end and I didn't get a chance to say thanks.
Both of us were thrilled with how it all went and the evening was great fun. Having been to a ton of these things, the evening disco and DJing is a really big part of it all, and I've been to plenty where it doesn't really get going all that much.
I don't think the dancefloor cleared at all from the very first dance onwards and everyone had a great time! Really big thanks to you for coming in at such late notice – the set-up and music was all perfect for the night." – Richard B 9/5/15
—
"We can't thank you enough for your service on the evening, it was excellent and some great songs were played. It was certainly an evening we will remember for a long time. We'll certainly recommend you to friends and family." – Richard T 5/6/15
—
"Just wanted to let you know that the disco was just perfect and exactly what we wanted, and all made for a perfect day.
Thank you for your help and we will certainly recommend you to anyone else looking to hire in the future" – Maria H 6/6/15
—
"Can we book you again for our staff party, last time you were awesome!" – Corporate Booking 29/6/15
—
"Thanks to Mark at Retrodisco for some excellent tunes at our event last night, see you again soon!" – Jim B 8/8/15
—
"Thanks for the other night, everyone had a great time, we will be using you for all future events" – Corporate Booking 14/9/15
—
"Many thanks for Saturday Night, everyone enjoyed the dancing, I certainly had a great time" – Richard E 10/10/15
—
"Thanks so much for the disco you provided for our wedding, we had a fantastic evening, and were really impressed on how you tailored the music to the people and age groups in attendance" – Jo A 18/10/15
—
"Everyone had an amazing time, it went a bit nuts, many sore heads this morning, thanks again, see you next year" – Corporate Booking 22/10/15
—
"Hello Mark, just a very quick note to say thank you for yesterday, you were amazing!" – Natasha C 07/11/15 – Bovey Castle
—
"Thanks for everything yesterday Mark. Natasha and I thought you were great and I'm pretty sure all the guests thought the same. I'm sure there were a few aching bodies around this morning. We'll be sure to recommend to anyone. Cheers" – Andy C 07/11/15 – Bovey Castle
—
"I just wanted to say a massive thank you, it was a fab disco" – Dani M 6/12/15
—
"Thank you so much for making my night so memorable, lots of great feedback" – Karis P 19/12/15 – Uplowman Hall
—
"Just wanted to say thank you for the brilliant disco, I'll be in touch to rebook for next years party" – Angela D 2/1/16
—
"Many thanks for all your efforts and for helping making it an awesome night. I would definitely recommend you to any of my friends. I also know how much the band appreciated how good and accomodating you were." – Richard H 16/1/16
—
"Just writing to say we were really happy with the disco last night. It was brilliant, you kept everyone dancing with the right mix of music and went out of your way to accommodate. Have passed your details on to people and will definitely be in touch" – Kevin W 6/2/16
—
"Thanks for a great evening's music on Saturday night, we really enjoyed it & would not hesitate to recommend you." – Bob F 5/3/16
—
"Chris and I would like to say thank you so much for Saturday. We had a great time and the music was spot on!" – Lauren C 26/3/16
—
"Your ears should be burning the amount of us who are saying how great this night was" – Exeter WOW 17/6/16 – Monkey Suit, Exeter
—
"We booked for the Braunton Academy Leavers' Prom and were very pleased with how professional the service was. We used Retrodisco last year on the recommendation of another DJ and were not disappointed." – Judy N 28/6/16 – Woolacombe Bay Hotel
—
"We wanted to say thanks for doing such a brilliant job the other night. You got the music exactly right. Best wedding ever." – Luke B 19/6/16
—
"Fantastic DJ who made our wedding go off with a bang. Got the music choices exactly right and everyone dancing right up to the last dance. Will remember those tunes and the dancing for years. Thank you!" – Luke 19/6/16
—
"Outstanding service all round and quality music choices, exactly what my wife and I requested for our party." – Adam 13/8/16
—
"Thanks SO much for last night, everyone had an awesome night" – Adam & Louise 20/8/16
—
"Thank you for a great job yesterday, everyone said how good the music was" – Matt C 28/8/16
—
"Great performance at our wedding, thanks!" – Derek 9/9/16
—
"I would like to thank you for your contribution to our event" Alex M 15/9/16
—
"Thanks so much for helping make our day so special" – Chris D 24/9/16
—
"Thanks again for a great night, everyone said how great the music and atmosphere was, so thanks for being a big part of that" – Scott D 17/9/16
—
"We booked Retrodisco for our wedding and the service from start to finish was excellent" – Chris D 18/10/16 –
—
"Just when we thought it couldn't get any better, Mark put on music that brought the house down, very efficient and professional DJ" – Jennifer P 23/11/16
—
"Absolutely lovely DJ, everyone was so impressed at our wedding, thanks a million for a great evening" – Jesssica W 19/11/16 – Mill On The Exe
—
"Just to say thanks for everything you did on Saturday – everyone loved the disco so thank you. The club were really impressed too and asked for your details so they can contact you in the future. So I've made sure we've passed that all on to them. If we do it again next year – your my first port of call." – Katy S 10/12/16 – Whipton Institute
—
" Just wanted to say thank you so much for last night. We had plenty of compliments about the music, particularly the rock section!!!! We loved our final song too. They were very professional, the lighting looked really great (would advise paying the extra for the uplighters) and reasonably priced. Thank you for a memorable evening" – Melissa T 17/12/16 – Edgemoor Hotel
—
"Amazing! Did the disco for my wedding on the 4th February. Incorporated alot of my favourite songs got the mood just right. He aced it. If I would certainly recommend him. I seriously do not believe anyone could have done it better." – Louise P 4/2/17 – Kentisbeare Village Hall
—
"Mark was fantastic at our wedding. He had everyone up dancing with some excellent song choices but without being intrusive. A brilliant choice for weddings or any other event. I would highly recommend." – Rebecca S 8/4/17 – Lord Haldon Hotel
—
"The evening was fab! Everyone commented on how there was always someone on the dance floor. We were thrilled with how the evening went, really couldn't have been happier, Thank you so much" – Amy C 16/4/17 – Lord Haldon Hotel
—
"Great night last night again Mark, thank you once again" – Lena 12/5/17 – Crossbar Exeter
—
"Just to say a huge thank you for the fantastic disco on Saturday.  It was absolutely amazing." – Cathryn W 13/5/17 – Cadhay
—
"I have to say you were brilliant and surpassed all our expectations. Your program was perfect, and to finish with our special track was genius!" – Toby D 24/5/17 – Old Park Hall
—
"Just a quick note to say what an amazing wedding evening do we had! The DJ was just great & totally spot on with the mood & keeping the vibe! So many of our guests commentated on what a great DJ! The finish we had was totally amazing & memorable! Still get goosebumps every time I think of it!" – Graham T 27/5/17
—
" I just wanted to thank you very much for doing the disco on Saturday it was a great night." – Sandra C 3/6/17 – Jubilee Hall, Chagford
—
"Amazing! Thank you for making our day even more special" – Emily N 17/6/17 – Calverleigh Village Hall
—
"Thanks very much for the disco at Tapely Park last Saturday, everyone certainly enjoyed it, so just to let you know it was much appreciated" – Gary B 22/6/17 – Tapely Park
—
"Just wanted to say a massive thank you to you for being our DJ on Friday. It was a perfect day and everyone said the music was spot on so thank you" – Ami G 23/6/17 – Reed Hall
—
"We just want to say thank you for our DJ last night, and for a truly fabulous evening. He was so nice and really helped to make it a night to remember. The music was spot on, we had all the songs we wanted and the atmosphere was wonderful. We would definitely use your company again and recommend to anyone in need of a DJ ! Thank you!" – Lucy A 24/6/17 – Bishop Tawton Hall
—
"Thank you for the disco last night, it was really good and we had an incredible time!" – Julie S 1/7/17 – Stockland Village Hall
—
"Just to say thank you so much – DJ was fab and had everyone up and dancing – he was great!" – Kate S 15/7/17 – Glazebrook
—
"Just wanted to email you to say thank you so much for being so brilliant and professional on our wedding day.  The music during the meal was absolutely spot on and the music throughout the evening was fantastic. So many of our guests commented on how great the disco was. Thank you so much again. We will be recommending you to all our friends." – Molly & Tom 26/8/17 – Coleshayes
—
"Wouldn't hesitate to recommend. Had everyone up on the floor. Good Communication, worked well to accomodate our requests and did a mini disco for the children too! Had all the songs we requested. Hardly knew he had setup, seemless! " – Tina B 31/8/17  Tunnels Beaches
—
"Good morning. Just to say a massive thank you for DJ'ing last night. The DJ was amazing and everyone had a banging time! Some proper tunes. Way more than ok. It was banging! He was great and handled all the guests very professionally. Couldn't have asked for any better." – Brian B 2/9/17 – Huntshaw, Torrington
—
"Thank you so much for playing at the wedding. It was fantastic with a great mix of music. We loved how the dance floor was busy all night." – Kate G 30/9/17 –  Britannia Naval College, Dartmouth
—
"We just wanted to say that your DJ-ing was absolutely fantastic, there was always loads of people on the dance floor. Even Grants mother was dancing the night away (a rarity for her). We will definitely be recommending you to our friends. Thank you so much!" Grant & Nina T 22/10/17 – Mount Edgcumbe, Plymouth
—
"Thank you for DJing for our special day! We both loved your music choices and thank you for playing our requests.  Everyone we talked to complimented the music choices and there was never an empty dance floor for the whole evening! (which is something that can't be said for a few weddings we've attended). We were both so pleased that everyone else had a great time" – Craig & Sarah – 23/10/17 – Two Bridges Hotel, Dartmoor
—
"The night was great and the DJ was excellent. Thank you" – Kris C 28/10/17 – City Gate Hotel, Exeter
—
"Just to say thank you for hosting Karens 50th birthday party. You were a star and everyone thoroughly enjoyed the night. You were very professional, flexible and entertaining. Will definately hire you again." – Tony 11/11/17 – Private House Party
—
"Just want to say thank you so much. The music was perfect for the event and everyone had an amazing time. I will definitely recommend you to others!" Jack 3/2/18 – Exeter Castle
—
"Big Thanks! It was exactly as I'd hoped and we've already received great comments on what a super party it was. Couldn't have been better!" – Vicky 4/2/18 – Uffculme Village Hall
—
"Thanks so much for everything. You were amazing and I will recommend you." – Laura – 10/2/18 – City Gate, Exeter
—
"Just a quick note to say thank you so much for the wonderful disco on Saturday night. Everyone commented on how fabulous it was.
I am really happy to recommend you to everyone! Thanks once again" – Nicole – 17/2/18 – Ashridge Great Barn
—
"We had Retrodisco and Perfect Wedding DJs for the evening party at our wedding and was fantastic! The DJ was very professional but also fun engaging with our guests throughout the night. He offered us the extra up lighters which really made a difference too. I would highly recommend for any event. Thanks again" – Zoe N – 23/2/18 – Deer Park Country Hotel
—
"Thank you for a lovely evening. You did a fab job!" – Laura & Andrew –  24/2/18 – Salcombe Harbour Hotel
—
"Thank you that was awesome, it was exactly the music we were hoping for!" – Shaunagh – 30/3/18 – Woodbury Park
—
"Thank you for making last night so memorable! Lots of our friends said it was the best mix of music they have ever heard at a wedding" – Richard & Sarah B – 12/4/18 – Rockbeare Manor
—
"Just had a brilliant birthday party. Thank you so much Retrodisco for making it such a great evening, I would recommend them to anyone, they played just the right music to suit my taste and several of my guests commented on how good they were. Thanks once again! I even had guests asking where you were from. Thank you so much xx" – Barbara C – 21/4/18 – Quicksilver Mail, Yeovil
—
"Thank you so much for yesterday! You did an absolutely fabulous job and the music went down a treat, as you obviously gathered when you were being hassled at the end to play 'one more song!' Really, really pleased so thank you very much!" – Natalie G – 5/5/18 – Pynes House
—
"We hired Retrodisco for our 40th birthday party, good communication and Mark was great with the music selection. The dance floor was full and everyone loved it. Thanks Retrodisco, highly recommended" – Hannah J – 11/5/18 – Mill On The Exe
—
"Fabulous night for my 60th held in a marquee in the garden – great tunes and danced the night away – Thank you!" – Lorraine B – 9/6/18 – Private Residence
—
"Dealing with them was a pleasure from start to finish. Very good at communicating with us about the requests for our wedding music. Despite the very hot weather they managed to get the dance floor going which was amazing. They really listened to our taste in music. We had lots of comments about how good the music was. Ending the night with Daydream Believer was perfect." – Katie & Art – 14/6/18 – Deer Park Hotel
—
"Thank you so much for an excellent evening, everyone was talking about how good the music was. You really listened to what we wanted and managed to get people on the dance floor despite the July heat!" – Michelle C – 8/7/18 – Deer Park Hotel
—
"Thanks for doing such a great set! Everyone loved the music and we had the perfect day." – Jess R – 25/8/18 – Marquee Wedding
—
"Thank you so much. It was perfect. Something for everyone, what a night!" – Sarah & Matilda – 1/9/18 – Luckaborough Glamping Tipi
—
"It was such a great evening, thanks for being the DJ, you picked all the right songs! We never expected such a busy dance floor at our small wedding" – Jess & Mathias – 8/9/18 – Salutation, Topsham
—
"Great DJ's and able to be flexible enough to play a range of tunes. A fantastic night, thank you." – Lorraine & Jenny – Fingle Bridge Inn – 8/9/18
—
"Thanks so much for djing our wedding, We really enjoyed ourselves and thought you played a really good mix" – Ross L – Sidmouth Harbour Hotel – 16/9/18
—
"We just wanted to say thank you so much for being such a fab DJ on Tuesday! Our guests all commented on what great music you played and everyone loved dancing the night away!" – Talia R – Tunnels Beaches – 18/9/18
"Thank you so much for Saturday, it was perfect, exactly what we were after. A blend of our music, your discretion and some requests. Everybody absolutely loved it and we are so pleased. Thank you again, and also for putting up with all our detailed enquiries and request to meet up etc beforehand. You smashed it and we would be happy to provide a recommendation regarding your services. The equipment also looked brilliant in there as well and did a great job!" – Simon & Katie – Anran @ Tidwell Farm – 29/9/18
—
"Mark was AMAZING, from the moment of booking him (a long time in advance) his communication via email and text was brilliant. We couldn't have had a better night on our big day, Mark was happy to take song requests from us in advance and had everybody up on the floor all night, from current hits to old school classics to the good old YMCA (our request) which Mark even photographed me and my wife leading the dance!. Amazing guy and can't recommend him enough! – Dawn & Francesca – Upton Barn and Walled Garden – 12/10/18
—
"I just wanted to drop you and email to say how much we enjoyed the disco on Saturday, the DJ did a wonderful job and several people commented on what good songs he was playing. Thank you very much" – Sarah G – Lovacott Hall – 20/10/18
—
"Thank you so much! We all had a great time." – Alice M – Mill End Hotel – 20/10/18
—
"Thank you for being such an amazing dj at our wedding on Saturday. Jonny and I had the best time and everybody loved it! Thank you again, it was everything we could have hoped for" – Harriet and Jonny – The Oak Barn – 27/10/18
—
"Everybody loved the disco and the French contingent really appreciated your efforts with the French requests." – Jonny & Magalie – Britannia Naval College, Dartmouth – 3/11/18
—
"We used Perfect Wedding DJ's and Retrodisco for our wedding at East Devon Golf Club on 03.11.18 and they were great! The white setup was beautiful and the dance floor was never empty which is exactly what we wanted." – Grace – East Devon Golf Club – 3/11/18
—
"Just wanted to pop you a quick note to say thanks for a fantastic DJ. He was great, played good music and there was no cheesy chat, which we didn't want." – Emma R – Sandy Cove Hotel – 24/11/18
—
"Absolutely perfect, thank you so, so much you gave us the best night" – Leah F – Roadford Lake – 15/12/18
—
"I would highly recommend for any corporate party, weddings and special events. We had a fantastic evening for our staff party. Thanks again." – Stacey – Lloyds Cafe Bar, Exeter, Corporate Event – 13/1/19
—
"Mark and team supplied the perfect playlist for my Husband's 60th Birthday Party. The age range from teens to 80's, they provided something for everyone, had a very professional approach and set up, nothing was too much trouble. We all had a great night and I have no hesitation in recommending their services." – Michele B – Exmouth – 19/1/19
—
"Thanks Mark! It was a great night and everyone thoroughly enjoyed it – apologies for the one more request about 10 times over." – Helen M  – Imperial Hotel, Torquay, Corporate Event – 26/1/19
—
"Hired Retro Disco for our wedding on the 23rd of February. It's fair to say people were up dancing all night. The sound was fantastic and lighting too. I would definitely book again for another party." – Pauline N – Huntsham Court – 23/2/19
—
"I hired them on the 8/3/19 for my 30th birthday party. I had attended a wedding of a friend last year which he was the dj for and I just knew I HAD to have him do my party too! Everyone commented on how good the music was and was a brilliant night! Thankyou so so much!" – Kristy KL – Dawlish – 8/3/19
—
"What a fantastic service! We had a great night with Mark and his skills – thanks very much. Everyone was really impressed by the lighting system and the variety of music on offer! I would highly recommend for a party or wedding! Thank you very much." – Lucy F – Broadhembury Memorial Hall – 9/3/19
—
"Thank you for a brilliant job last night, everyone really enjoyed it, thanks again" – Lisa – 50th Birthday, Cheriton Bishop Hall – 16/3/19
—
"We just wanted to say thank you for doing such a good job on Saturday night. It was perfect." – Philippa C – Theme 50th Birthday – Chagford Jubilee Hall – 16/3/19
—
"Fantastic music for our wedding, would highly recommend, thank you!" – Sarah S – Moorland Garden Hotel, Tavistock – 23/3/19
—
"Thank you so much for Saturday night. Everyone really enjoyed themselves and your music was spot on! We couldn't have asked for a better evening. Thank you for helping to make our night one to remember." – Jessica B – Upton Barn – 30/3/19
—
"Absolutely perfect! I wish more had come but that is always the case! I will make sure I suggest you to anyone I know that needs a disco! Brilliant job" – Simon P – Poltimore Villgage Hall – 13/4/19
—
"Thank you so much for adding to our amazing day. The tunes were fab. We had a wonderful time!" – Ian & Nikk – Tunnels Beaches – 18/4/19
—
"Thank you for a great night. Everybody enjoyed it! We'd like to book you for our next event." – Mike – Corporate Event – 20/4/19
—
"Just wanted to say a massive thank you for last night! Amazing disco, everyone loved it! I will highly recommend you! Thanks so so much! " – Jessica & Adam – Hestercombe Gardens – 26/4/19
—
"Mark provided us with a fantastic disco last night for a 50th birthday party . From the minute I enquired regarding availability I had quick responses and excellent email communication . The disco itself was brilliant . Great sound , all requests were played . Nothing was too much trouble on the night and everyone was having a fantastic time dancing to the music . Highly recommended . Thank you for making the evening special" – Soosie C – Budleigh Town Hall – 4/5/19
—
"Wicked DJ set up, had all the lights, speakers and a great play list. Highly recommended, would definitely use again." – Peter M – Royal Beacon Hotel, Exmouth – 4/5/19
—
"Just wanted to say a massive thank you, your song choice was perfect and thanks for keeping taking requests right until the end of the evening, everything was perfect, you really made the night. I will 100% be recommending you to anyone who needs a dj, thanks so much again." – Ellen & Marley – Greenacres, Honiton – 4/5/19
—
"We had the most amazing evening & I can't thank you enough, the music was just perfect, you may have noticed I barely left the dance floor." – Julie S – Woolacombe Bay Hotel – 11/5/19