Great Barn, Higher Ashton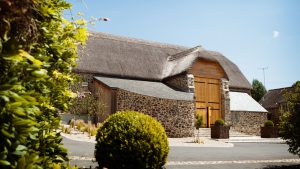 https://thegreatbarndevon.co.uk/
Nestling in an idyllic valley just 8 miles from Exeter, The Great Barn is quite simply one of the most breathtaking Wedding Venues in Devon. The Great Barn is aptly named because at 23 metres long and 7 metres wide, it is one beautiful enormous space. The scale means that pretty much everything happens in a single sociable place. It's perfect for a big wedding day! John, the owner is a fantastic host and a great person to work with. He runs a tight and efficient ship!
We are so proud to be one of their regular DJ suppliers, we have worked at The Great Barn a number times over the last couple of years, and our special setups fit perfectly in the barn and fill it with sound and light, without spoiling the character of the barn.
We make a point of ensuring our music is exactly what suits the mood and style of your wedding/party, and we will discuss this in detail beforehand.
After the ceremony and wedding breakfast, during room turnaround, we will quietly arrive in the side door and set up to be ready for you, we will not disturb you or your guests, you won't likely even see us coming in.
You can choose to have some background music whilst your guests enjoy drinks and relaxing in the lovely courtyard and outdoor spaces and then move on to the first dance when you are ready, or go right to the dancefloor when turnaround is complete.
Below are a few snapshots from our recent events at The Great Barn.