Lewtrenchard Manor – Regular DJ Venue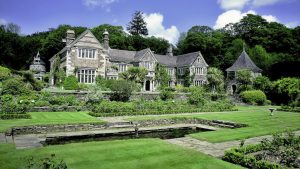 https://www.lewtrenchard.co.uk/
Lewtrenchard Manor is one of the most popular and prestigious family run luxury hotels in Devon. Nestled in a secluded valley beneath Dartmoor's wild tors, and virtually untouched by time, the Manor is located in a magnificent setting. Steeped in history, this Jacobean manor dates back to the early 1600s and is the perfect place to enjoy a relaxing break, away from the modern world, in beautiful surroundings.
We are so proud to be a regular DJ and Mobile Disco supplier, our services are a perfect fit for the discerning Lewtrenchard client, with high end skilled DJs and excellent quality, stylish equipment. Lewtrenchard tends to attract the more discerning client, looking for top quality.
We are often selected by Lewtrenchard clients who recognise music as a passion and wish to have something better than the norm. We make a point of ensuring our music is exactly what suits the mood and style of your wedding, and can make the ballroom sound and look amazing.
Over the last few years we have covered several high end weddings at Lewtrenchard, included international weddings, with couples from Australia and USA.
For most events, we will come into the Ballroom quietly whilst you relax in the house or gardens, via a side door, so you will not be disturbed by us in the slightest.
The style can be from understated to full on nightclub, this is your choice, the room is fantastic for a party and we can set out equipment tidily by the far window, to allow plenty of dancefloor area.
Below are a few snapshots from our recent events at Lewtrenchard.
Some recent feedback:
"We had an absolute blast, music is a massive love of both of our lives and you exceeded all our expectations. Thanks again for making our evening one to remember"- Hannah & Steve, Wedding, Lewtrenchard Manor – 12/10/19