Rockbeare Manor – Regular Venue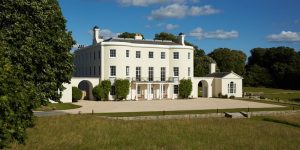 https://www.rockbearemanor.co.uk/
Rockbeare Manor is a charming country house that was built in around 1760 for Sir John Duntze, an Exeter woollen merchant and banker. Since it was last purchased by William Nation in 1855 it has passed from generation to generation and has always been a cherished family home.
There is a dream-like quality, style and romance at Rockbeare Manor. Over the last 250 years it has evolved but one thing that has remained at the heart of it – it's a wonderful place for entertaining (and especially weddings).
We are so glad to be able to work with Rockbeare often, we were one of the first suppliers there when the venue opened in 2016 and have been back many times since. Our special setup fit perfectly in the Ballroom and fills it with sound and light.
We are often selected by Rockbeare clients who recognise music as a passion and wish to have something better than the norm, we make a point of ensuring our music is exactly what suits the mood and style of your event, and we will discuss this in detail beforehand.
After the ceremony and wedding breakfast, during room turnaround, we will quietly arrive in the side door of the Ballroom and set up to be ready for you, we will not disturb you or your guests, you won't likely even see us coming in as you will be in the garden or the main house.
You can choose to have some background music whilst your guests enjoy drinks and relaxing in the lovely grounds and house and then move on to the first dance when you are ready, or go right to the dancefloor when turnaround is complete.
Below are a few snapshots from our recent events at Rockbeare Manor.
"Thank you for making last night so memorable! Lots of our friends said it was the best mix of music they have ever heard at a wedding" – Richard & Sarah B – Rockbeare Manor