Regular Wedding DJ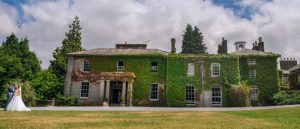 Colehayes Park is the perfect venue for those looking for somewhere relaxed to extend their wedding celebrations over a long weekend or even a whole week. Not only is the house a fully-licensed wedding venue but they can also sleep up to 75 guests in the manor and a further 11 in Cork Tree Cottage.
Colehayes is unique as it's a DIY wedding venue, which means that you have the choice and freedom to create your own perfectly individual wedding. Despite its size, the house has an informal and cosy atmosphere, making it feel like a giant home from home.
Many of their wedding guests describe the stay in the house as a truly magical experience due to its special atmosphere. It's a fantastic venue for Wedding or Special Event, and we are lucky to be able to work their often.
For most events, we will come into the venue quietly whilst you are eating or celebrating in the other rooms. You wont even notice us arrive most of the time.
The style can be from understated to full on nightclub, this is your choice, the room is fantastic for a party and we can set out equipment tidily at the end by the bay window, giving a fantastic dance floor area.
What some of our Colehayes Couples had to say:

"Just wanted to email you to say thank you so much for being so brilliant and professional on our wedding day. The music during the meal was absolutely spot on and the music throughout the evening was fantastic. So many of our guests commented on how great the disco was. Thank you so much again. We will be recommending you to all our friends." – Molly & Tom

"Kamila and I just wanted to extend our thanks to you for making our day extra special last weekend. We had many people come up to us on Saturday night and Sunday morning commenting on how amazing the disco was and how good the playlist of songs was! Your setup looked really great in Colehayes and the projected hearts on the floor were a real eye-catcher! Kamila wanted to extend her thanks as well for dealing with the confusion of the Polish songs so well, it really made our Polish guests feel welcome. Once again thank you and we will definitely recommend you to our families and friends in the future!" – Kamila & Joel