"Mark was amazing from start to finish. His suggestions before my wedding were all great. On the day he was on time and totally professional. He kept people dancing and did everything we asked of him. Lots of my guests commented on how good it was and I would definitely recommend him."

– Ash & Samantha, Wedding, Dartmouth Naval College -21/9/19″
Already booked your venue? We are have venue specific pages for our favourite and recommending venues:
Huntsham Court, Upton Barn, Sandy Cove, Pynes House, The Great Barn, Lewtrenchard Manor,
Deer Park Country House, Rockbeare Manor, Oak Barn Hittisleigh, Bickley Mill Inn….more to follow.

There are lots of Wedding DJs, how are we different?
Put simply, the best Wedding DJ is a DJ with experience, skilled with all genres of music, and with extensive musical knowledge, the ability to be able to change the mood in an instant and work 'on the fly'.
Weddings are our specialist subject and we pride ourselves in offering excellent quality and the very best in wedding DJ entertainment.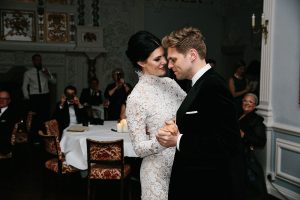 First Dance – Lewtrenchard Manor – March 2020 – Prudence and Ben
Why choose us?
Being a good wedding DJ is not an easy task, you have to love it for a start, you cannot be the 'star', that's the couples job, and you have to entertain the entire audience, young and old…..
The average wedding has a guest count of 50-200 people, of all ages and musical tastes, all to entertain at once, it's no mean feat to get it right.
In a nightclub, people are there for the music genre that the club offers, at a concert the audience go for the band and it's musical style, but at a wedding, everyone is there, from toddlers to mum and granny, all enjoy something different and that's where a skilled, experienced wedding DJ shines over a less experienced DJ, or DJ who specialises in another area (club DJ etc). We love a wedding and have DJ'd at many hundreds and according to our Reviews and Testimonials, have hit the spot nicely.
Of course, this doesn't mean being 'generic' and playing the same old songs, absolutely not, that's where we endevour to be different than other wedding DJ's, we strive to include the songs that others might not, the lost classics, your favourite songs from college or university, the stuff that defines you as an individual and as a couple. If techno, indie, rock, etc is your thing, we'll make it happen!
The 'wedding favourites' have their place and the degree to which they are played is something we discuss with you to plan your night, to make it the perfect entertainment, to make it YOUR day, but equally to please the other audience members who maybe didn't go 'raving' with you, or to that 'indie club' you and your college friends frequented! Our job is get the music mix right to make it unique to you, and also to include your guests to ensure they go home with happy faces saying your wedding party was the best ever.
The evening entertainment is the single longest part of the day, so needs to be done right, and we'd love to be in charge of that task for you.
As well as being skilled DJ's, we love to provide fantastic sound and atmospheric lighting to bring your venue alive.
Our prices are competitive for the quality we offer and definitely give great value for your investment.
Our white wedding setup looks great in your wedding pictures and will blend in nicely with your decor. You don't really want your first dance pictures to be in front of a web of wires and ugly equipment! We also offer more traditional 'disco' looks for those looking for that style.
We love to work with you on the musical styles for the night. We actively encourage you to provide some favourite songs (10-20) to add into the running, to make it special to you. We do not recommend extremely long lists, as these restrict the DJ's ability to use his skill, and as weddings are always a mix of people and we need to appeal to all. Our DJs are very skilled at these events and will work the room, giving everyone the chance to dance, with a big nod to your favourites. On the night requests are also welcomed.
We blog some events on our Facebook page, we like to tell a story of the night, there are lots of pictures to be found there. Give us a like to follow the stories of many big days!

We occasionally put videos of fun moments on our YouTube channel, with permission.
Uplights, Starlit Backdrops, Gobo Projection, all add to the atmosphere and can be found on our Additions page.
"Just wanted to say thank you so much for last night. We had plenty of compliments about the music! We loved our final song too. You were very professional, the lighting looked really great (would advise paying the extra for the uplighters) and reasonably priced. Thank you for a memorable evening" – Melissa T – Edgemoor Hotel

"Amazing! You did the disco for my wedding. Incorporated alot of my favourite songs, got the mood just right. You aced it. I would certainly recommend. I seriously do not believe anyone could have done it better." – Louise P – Kentisbeare Village Hall

"Mark was fantastic at our wedding. He had everyone up dancing with some excellent song choices but without being intrusive. A brilliant choice for weddings or any other event. I would highly recommend." – Rebecca S  – Lord Haldon Hotel
Proud to be recommended suppliers to:


LGBT Friendly – Parties –  Weddings – Exhanced DBS Checked
We'd love to be able to work with you at your wedding, feel free to message us for a quotation.