Country Ways – Regular Wedding DJ Venue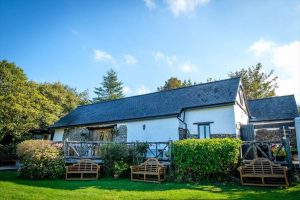 Country Ways is unique! The combination of the amazing setting, your own little village of cottages, a beautiful Barn and the stunning views across the North Devon countryside, makes Country Ways a spectacular venue for a wedding or event. Whether you dream of a relaxed family gathering with traditional local pasties, cider and a cream tea, or a country chic festival-style wedding with 5* fine dining in a tipi or vintage marquee their bespoke venue offers you the flexibility and freedom to plan your own perfect day.
We are often selected by Country Ways clients who recognise music as a passion and wish to have something better than the norm. We make a point of ensuring our music is exactly what suits the mood and style of your wedding, and can make the barn sound and look amazing.
Country Ways often appeals to couples who like their music slightly alternative in vibe, we can definitely help with keeping it to your style, whatever it may be!
For most events, we will come into the barn quietly during room turnaround be ready for you when it's completed. You wont even notice us arrive most of the time.
The style can be from understated to full on nightclub, this is your choice, the barn is fantastic for a party and we can set out equipment tidily at the end.
Below are a few snapshots from our recent events at Country Ways, and below those some comments from past customers:
"I just wanted to say thank you for doing a great job at our wedding. Everyone enjoyed themselves and said the music was spot on. I will be recommending you going  forward."- Lee & Naomi, Wedding, Country Ways, Umberleigh – 20/9/19

"Just wanted to say thanks again for last week, it was brilliant. Everyone had such a good time and we thank you for trying out all of our strange requests! Also thank you so much for all the photos, some are hilarious haha!" – Abby & Shaun – Country Ways – 8/12/21