Regular DJ Venue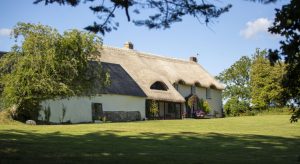 https://www.higher-eggbeer.co.uk
Higher Eggbeer Farm is one of the most unique and versatile wedding venues in the South West, with rustic charm that oozes from every nook and cranny, especially the barn! We are lucky enough to work there often!
It's no wonder Higher Eggbeer has been voted one of the best party venues in the UK, by The Times newspaper. It also was included in one of the best Society weddings by Tatler.
We are often selected by High Eggbeer clients who recognise music as a passion and wish to have something better than the norm. We make a point of ensuring our music is exactly what suits the mood and style of your wedding, and can make the function room sound and look amazing
For most events, we will come into the barn quietly during turnaround be ready for you when it's completed. You wont even notice us arrive most of the time.
The style can be from understated to full on nightclub, this is your choice, the barn is fantastic for a party and we can set out equipment tidily at the end.
We can also conform to venue noise levels without it affecting the evening proceedings too.

"We just wanted to take the time to say thank you so much for the part you played in our wedding! The music was spot on, with all of our favourite songs as well! I especially liked the Taylor Swift additions! Thank you again for being so flexible when things were running a bit behind for our reception, I was so much on cloud 9.! I also wanted to thank you for playing my mum and dad's first dance song at the end of the night, it meant so much to us and they loved it too!" – Amy E – Higher Eggbeer – 25/9/21
Below are a few snapshots from our recent events at Higher Eggbeer