Huntsham Court – Resident Venue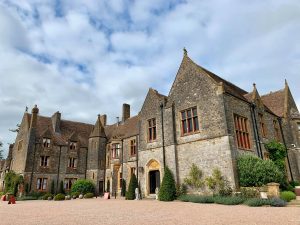 http://www.huntshamcourt.co.uk
We are so proud to be a recommended and very regular DJ and Mobile Disco supplier to Huntsham Court, our services are a perfect fit for the discerning client, with high end skilled DJs and excellent quality, stylish equipment.
Huntsham Court is an historic private hire country estate with a manor house and gardens, situated in the Devon countryside on the borders of the Exmoor National Park and Somerset. They are an exclusive, award winning, private hire country estate wedding & party venue, sleeping up to 92 people across 40 luxury bedrooms for the ultimate in totally private functions!
We are often selected by Huntsham clients who recognise music as a passion and wish to have something better than the norm. We make a point of ensuring our music is exactly what suits the mood and style of your wedding, and can make the ballroom sound and look amazing, after many events at Huntsham we have it perfected!
Over the last few years we have covered many high quality weddings and corporate balls at Huntsham, included several international weddings, with couple from India, USA, Australia, New Zealand and France to name just a few.
We know the team well, working with Clair and Emma in particular very regularly and we thank Huntsham for recommending us often to their clients!
For most events, we will come into the Ballroom quietly whilst you eat and be ready for you when you are done. You wont even notice us arrive.
The style can be from understated to full on nightclub, this is your choice, the room is fantastic for a party and we can set out equipment tidily in the corner in front of the piano, to allow plenty of dancefloor area.
Below are a few snapshots from our recent events at Huntsham.
Some recent feedback:
"Hired Perfect Wedding DJs/Retrodisco for our wedding on the 23rd of February. It's fair to say people were up dancing all night. The sound was fantastic and lighting too. I would definitely book again for another party." – Pauline N –  Wedding – Huntsham Court – 23/2/19

"Thanks, Mark!…and thanks for an amazing set. House of Pain into Kriss Kross was INCREDIBLE! …and the mix into Intergalactic was immense. Glad I got to do the running man to Fight the Power and do my best Rosie Perez impression. A great mix for everyone!" – James & Dapnée, Wedding, Huntsham Court – 7/12/19