Sandy Cove Hotel, Ilfracombe – Regular Venue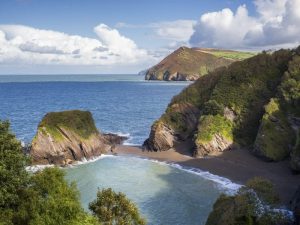 http://www.sandycove-hotel.co.uk
We are so proud to be one of the regular DJ and Mobile Disco suppliers to Sandy Cove Hotel, we have worked with them many dozens of times, and know how to make the Venue room look and sound fabulous for your perfect evening of entertainment.
Sandy Cove has it all! The views, the stunning Venue room, a pool, the beach, accomodation for your entire wedding party! It's stunning and we are proud to work there very often. Set on a North Devon clifftop this upmarket hotel is 4 miles just from Ilfracombe itself.
After the ceremony and wedding breakfast, we will quietly come in and set up and be ready for you, we do this seemlessly during room turnaround. You can choose to have some background music whilst your guests enjoy the spectacular views and then move on to the first dance when you are ready, or go right to the dancefloor. Winter weddings especially can go right to the party.  Sandy Cove is fabulous at any time of year, they've got the views for summer, and the cozy venue for winter!
We make a point of ensuring our music is exactly what suits the mood and style of your wedding/party, and we will discuss this in detail beforehand.
Below are a few snapshots from our recent events at Sandy Cove.
Some recent feedback:
"Just wanted to pop you a quick note to say thanks for a fantastic DJ. He was great, played good music and there was no cheesy chat, which we didn't want." – Emma R – Wedding – Sandy Cove Hotel

"Just wanted to say thank you so much for such a great and memorable evening of music on Saturday! Great variety and timing, can't remember the last time I had so much fun on the dance floor and I know everyone had a fab time too! Wouldn't hesitate to recommend you to anyone!" – Claire W, Wedding, Sandy Cove Hotel – 25/1/20

"Thank you for last night! The disco was brilliant I haven't danced so much in ages and all were talking about and we got the groom up in the end too!" – Dean K – Wedding, Sandy Cove Hotel – 1/2/20